Swan Lake Stables Summer Camp 2018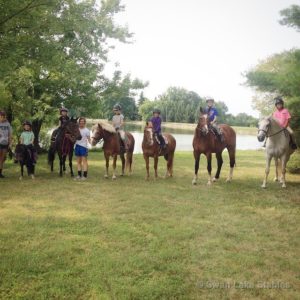 Swan Lake Stables Summer Camp is a fun educational week filled with horses and ponies.  Campers will have one mounted English riding lesson per day as well as help with barn duties i.e. horse care, grooming, etc.  Campers will also have daily informational hands on lessons including: parts of tack, show prep, cleaning tack, horse care, and parts of the horse.  After lunch campers will have free time to play in the front grass circle, kiddie pool, and kid size jumps as well as participate in fun crafts.  One day will be designated swimming day where campers will have the opportunity to ride a horse or pony in the lake.  Parents will be allowed to attend the group swim.
June 25th-29th 8:30am – 4pm – Advanced Week ($100 Deposit and form due by May 1st)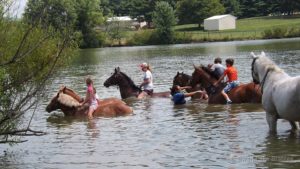 July 9th-13th 9am – 3pm ($100 Deposit and form due by June 1st)
July 30th-August 3rd 9am – 3pm ($100 Deposit and form due by June 15th)
Before and after care is available at $20/day (7am-7pm)
Tuition for the week is $450.  Current Swan Lake students receive a discount of $50.
There is a limited number of spots open for each week.  Get your deposit and forms in fast to secure your child's spot in camp.
Attire: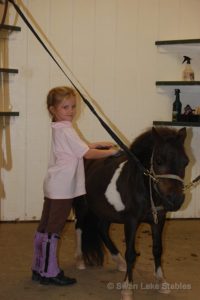 Shorts can be worn but campers must bring a pair of long pants to change into when riding.  It is also recommended that campers bring swim suits or an extra shirt and shorts that can get wet.  Campers must wear proper riding boots or shoes with a small heal during lessons.  Other barn appropriate foot wear is allowed when not mounted (no open toed shoes).  Shirts must be long enough to tuck into pants during lessons.  An approved riding helmet must be worn while mounted.  If campers don't have their own they can borrow one from the barn.  To swim horses, campers can wear a swimsuit with shorts over top, t-shirt optional and old sneakers or water shoes.
Lunch:
Campers must bring their own lunch and beverage every day.  There is a microwave and refrigerated available for campers to use.  It is recommended campers have extra water bottles or a refillable water bottle marked with their name.
The Advanced Week – New This Year!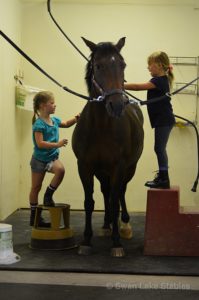 This is a special week for more dedicated riders.  Students must already know how to groom, tack, bathe, lead, and have a good grasp on general horse knowledge.  This week will involve more educational classes and less free time around the barn.  Students will be required to help with more daily barn chores and will be expected to learn and retain information taught about horses.  There will be visits from outside instructors such as the farrier, vet, horse dentist, etc.  For more information about this week, please talk to Mary.